Mission Statement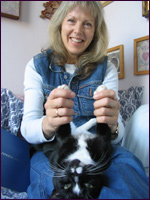 Dedication – This website is dedicated to those who "do the work" and believe…believe that life is to be an overall pleasant experience, that in fact, no matter how grim one's point of view can be, that deep in our hearts we know that the nature of existence is joy. To those that persist through confusion, pain, fear, or struggle, learning the way to living in grace – empowering ourselves to be in maximum integrity, love and creativity, assisting ourselves to achieve and those in need.
I thank all of my teachers for all of their dedication and generosity.
Purpose – The purpose of this website is to offer an array of ways for celebrating and tools for growing. Celebrating special occasions, you, your life, your creative gifts, and these opportune times we are living in. Tools for growing beyond limitations and learning to turn every apparent negative into a positive so that no matter what unfolds, we realize we are celebrating our innate intelligence and capacity to continually transform.
It is my conviction that at this time in history, there is no problem unsolvable. In fact, as viewed through the lens of "New Physics", any problem proves only to be an opportunity to create a greater state of "coherence"– a frequency jump from our current way of thinking. Through the use of various trainings, along with a network of others so inclined, I am dedicated to being and bringing all my relations into our birthright of living a fully functional and loving experience 24 ⁄ 7 ⁄ 365. Now is the time to learn how to transform negative states – depression, anxiety, addictive cravings, relationship conflicts, career stall-out, and creative blocks, physical pains, PTSS – all can now be addressed through the energetic techniques developed for this time of accelerated growth.
This unprecedented era and the concomitant astrophysical phenomena is an unparalleled expansion and acceleration for individual and collective transformation that can finally deliver us beyond the destructive trends so generationally habituated and perpetually promoted in the popular media.
Through these fascinating and fun disciplines, it is my intent to help you create maximum meaning and joy through personal, creative, and spiritual fulfillment. I invite you to read further. – Carol Cannon